Open-DXP for individual requirements
What is a Digital Experience Platform (DXP)?
A content management system initially focuses on the content lifecycle, the (life) phases of the web content. A digital experience platform expands this focus in the direction of a holistic customer experience: Initial prospects are to be turned into loyal customers across all digital touchpoints.
To achieve this, customers should be offered the right content, information and services at the right time and the corresponding experiences should be made available at the various touchpoints of their customer journey. This requires more than CMS functionality. Content management is only one building block in the architecture of a DXP, albeit a still important one.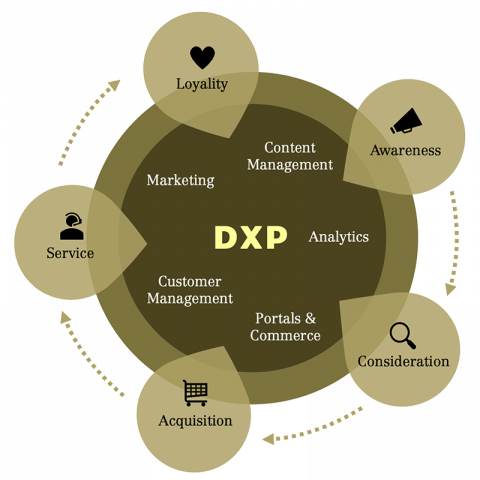 For example, modern platforms combine other components with the CMS, such as analytics tools, CRM and marketing automation, often in conjunction with e-commerce applications. Not everyone needs everything; the specific requirements of the individual customer determine the range of functions and the software components required for this.
A key success factor is a compliant appearance and interaction behavior in the front end - the presentation level of the DXP solution: this pays off decisively for the desired uniform customer experience.
"An Open-DXP is a federation of applications in an open architecture that enables the company to optimally design and continuously improve the digital experience for its customers across all contact points."
Closed vs. Open-DXP
This is possibly the most important strategic decision to be made at the outset: should a closed, all-in-one solution be relied upon, or does the open, best-in-class approach offer more opportunities and security?
With an all-in-one solution, the vendor in question (such as Adobe) promises to deliver everything out-of-the-box. The customer commits himself for years to a proprietary product and the components and functionalities that are fixed to it. When choosing a product, they must already know their needs for the next few years, which is a considerable challenge given the rapid development of new trends in the digital field.
In an open, best-in-class approach, a DXP application combines various applications in an open, API-based architecture under a common front end. This allows existing legacy systems (e.g., CMS or CRM) to be combined with new "best-in-class" components (e.g., for marketing automation) to create a DXP. Subsequent replacement of a single system is possible without having to replace the entire platform. An Open DXP thus also offers the security of being able to realize future requirements in a later extension. There is no risk of vendor lock-in.
Our Open DXP solutions are based on open approaches throughout. Designing, developing and operating a solution tailored specifically to customer requirements and expanding it to meet new demands is one of our core competencies.
Openness as a paradigm
"Open" as we understand it encompasses much more than a willingness to preferentially use "open source" applications as the building blocks of a platform. "Open-DXP" is not to be understood as "Open-Source-DXP". The demand for openness goes further; it can be understood as a paradigm in various respects. For example, it calls for a fundamentally open architecture concept ("open architecture"), so that new components can be added or existing components modified as required. The same applies with regard to data. This data should not get stuck in the silos of the various commerce, marketing, and CRM systems, but should be made available holistically for the entire platform in an "open data" approach.
Strategic advantages of an Open DXP approach
Openness
A view of future viability always includes the aspect of investment security. With an open approach, you retain the flexibility to add new components or functionalities step by step or to replace individual components as needed. Do you only want to change the analytics tool or is a new CRM system being introduced in the company? This is no problem in an open, API-based architecture. You retain all successful components and only change a single component.
Best-in-Class
In an open DXP solution, the "best-in-class" components can be combined in an interface-based architecture to form a complete solution. In this way, you combine your already successful and established IT components with the necessary extensions and services to achieve an excellent customer experience. They rely on their preferred components, are not tied to the one all-in-one provider and avoid vendor lock-in.
Datenhoheit
In an open architecture, you yourself determine the components you use and thus which data is stored where and how access is permitted. In this way, you retain sovereignty over your data and are not at the mercy of a solution provider's data handling. This not only facilitates compliance with DSGVO requirements, but also the protection of your aggregated market and customer data.
Successful approach
When designing and implementing a DXP solution tailored to individual requirements, we use approaches that have proven to be success factors for excellent solutions in many projects:
User Centered Design
For us, the method of user-centered conception and design process is an indispensable foundation on the way to an excellent customer experience. This is the only way to create applications that are consistently tailored to the needs and requirements of users.
Minimum Viable Product (MVP)
An MVP is an initial, minimally functional iteration of a product that must be developed to meet functional needs with minimal effort and ensure rapid feedback. In this way, undesirable developments can be avoided past the needs of the users.
Agile Development
Agile development methods such as Scrum and Kanban enable early feedback and a flexible approach. Our customers are directly involved as part of the team and are involved in the control of the development process.
Duden Learnattack as an example of a successful Open DXP
Since the first public beta version in spring 2015, the platform has been agilely developed with an open architecture and has been continuously expanded into a comprehensive self-learning platform to date.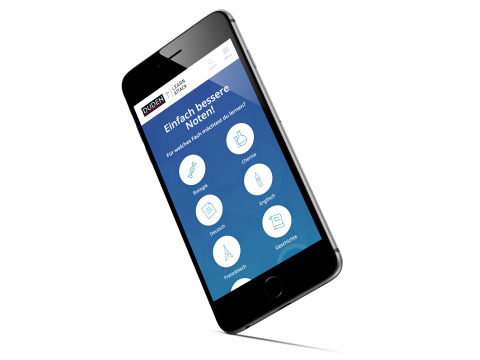 Experience Platform for Duden
A central Drupal application forms a platform for after-school e-learning with multiple extensions and interfaces to marketing automation, email marketing, payment and subscription management. Over 50 subscription models and various payments form a flexible e-commerce offering for the publisher.
You want to know more?
If you are planning an Experience platform or would like to know more about an Open DXP, let's talk.