TYPO3 and Drupal for modern platforms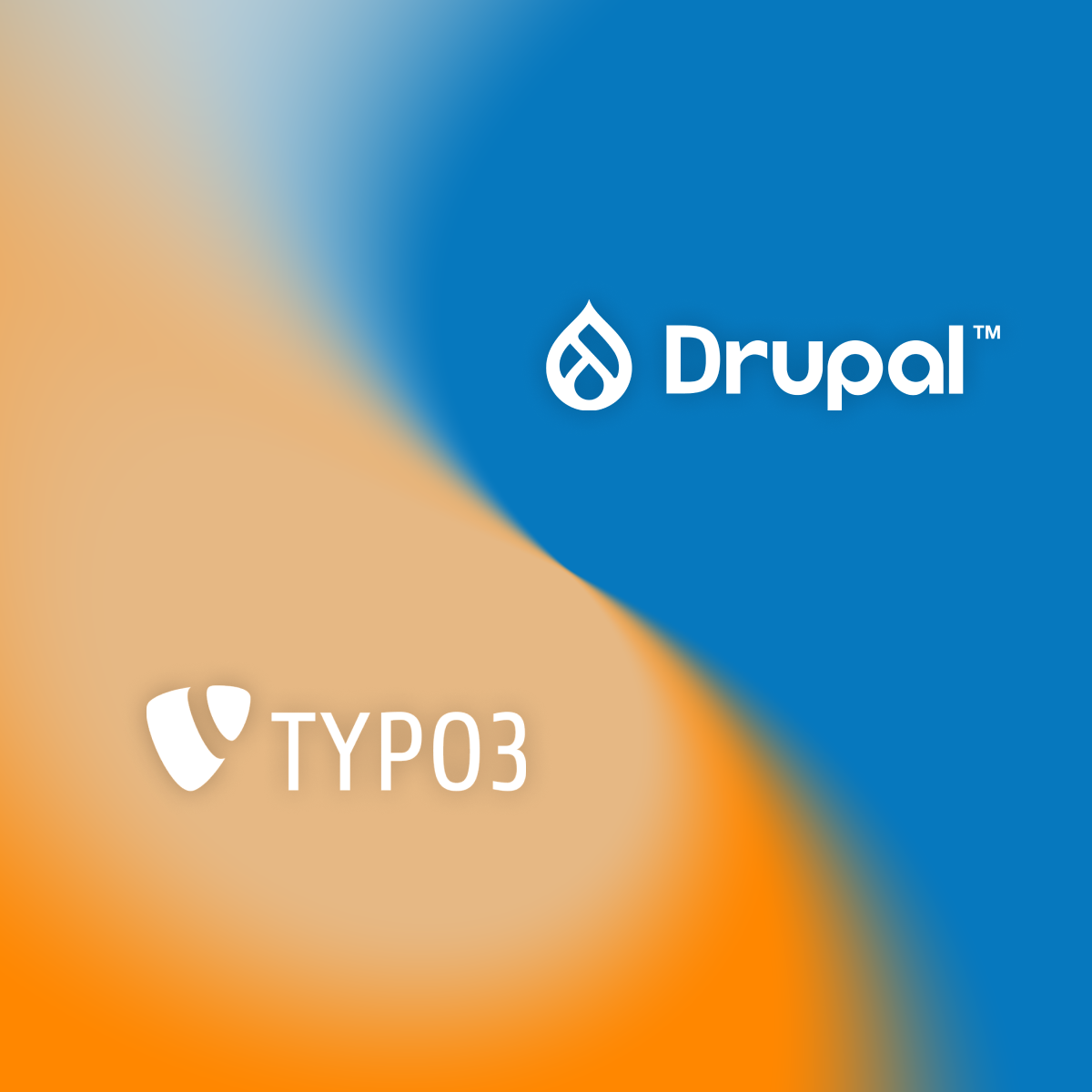 Content is king - whether for corporate websites, intranets or digital experience platforms: Everything revolves around content - it must be created, edited and managed. That's why content management systems play a central role in digital projects, especially in the enterprise environment. Since our foundation in 1996, we have relied on open source software for web-based solutions. We have placed our focus on the established and widespread frameworks TYPO3 and Drupal and use them as a basis for often complex applications.
We have many years of experience with both systems. Our digital agency employs certified experts who, thanks to ongoing training, always have their finger on the pulse of system development. But what are the differences between TYPO3 and Drupal, and what do we advise our clients to do?
Many similarities...
Both TYPO3 and Drupal are open source systems and thus free of licence fees. They are operated with the programming language PHP and the database service MySQL. A large community of developers continuously advances the respective technology and works on system security. Support forums provide competent assistance. TYPO3 and Drupal are regarded as highly performant and stable frameworks for professional use, both of which guarantee investment security. The installation as well as the technical maintenance should be taken over by experts in each case.
Both systems offer a wide range of possibilities for the implementation of SEO strategies and for online marketing. They come with the appropriate plug-ins for this purpose.
TYPO3 and Drupal can also be used as headless CMS if required. In this case, the backend with the content and the frontend with the content presentation are decoupled, and communication runs via programming interfaces (APIs). This concept is interesting for organisations that want to provide their target groups with an optimal user experience on multiple channels and devices - for example with individual custom applications.
Both systems score points with their multisite and multi-domain capability: several presences can be served from one installation, with a lot of comfort for editorial staff and system maintenance.
...some differences
Despite all these similarities, TYPO3 and Drupal each have special features that we would like to highlight here.
TYPO3
Even the basic installation of TYPO3 contains a wide range of functions. Around 1,600 ready-made extensions and integrated multilingualism make it the perfect CMS for many business projects on the web. With extensions that can be developed individually, the software can also meet specific requirements.
TYPO3 is particularly widespread in German-speaking countries, which is also where the largest part of the community is to be found. Updates are released about every 18 months, and the free Long Term Support (LTS) guarantees technical support for three years. Those who opt for the paid Extended Long Term Support (ELTS) receive extended long-term support for up to six years - a transitional solution until the next upgrade is installed.
TYPO3 allows the operation of several presences with the same basic installation. Content and menu functions are organised in a tree structure. The configuration language TypoScript supports the management of content and page layout. For experienced editors, using TYPO3 is usually not a problem. However, we have found that they benefit from initial training so that an optimal launch in the organisations is successful.
To ensure that the content ranks well in search engine results, numerous SEO extensions are available - out of the box and in the form of extensions for additional installation.
Drupal
There are significantly more developers working on and with Drupal than with TYPO3. The community is very large, with around 1 million active developers worldwide.
Its extraordinary flexibility makes Drupal the content framework for almost all web-based applications and sets no limits to creativity - for compact product pages as well as for powerful enterprise solutions with a multisite concept.
Drupal comes as a modular system with a lean functional core, so it is much more than a CMS. Numerous modules and themes offer possibilities for individualisation for specific requirements, both of small and medium-sized enterprises as well as of internationally operating corporations. So-called distributions, i.e. installation profiles, help to select modules for typical tasks and to configure the application as desired. Drupal shows its strengths especially in social publishing and community portals.
For search engine optimisation, Drupal has numerous plug-ins that can be used to automate and optimise all SEO issues.
Cases from UEBERBIT
Based on TYPO3 and Drupal we have already realised numerous solutions. Here are some examples: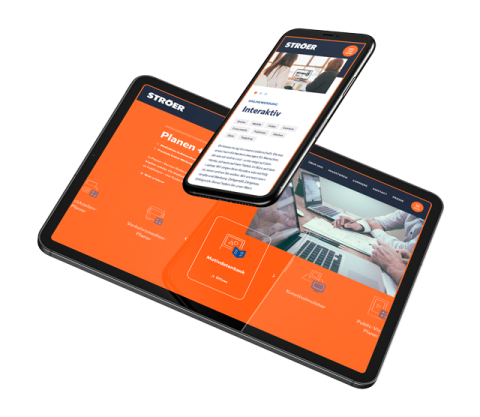 Ströer
A scalable TYPO3 platform with a concise design is the basis for Ströer's digital strategy.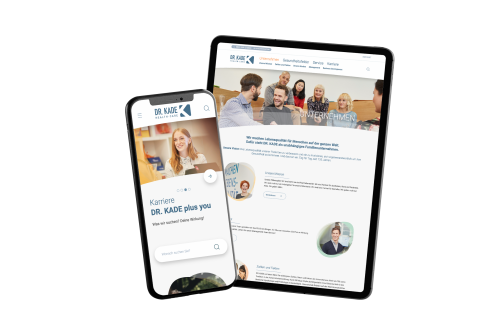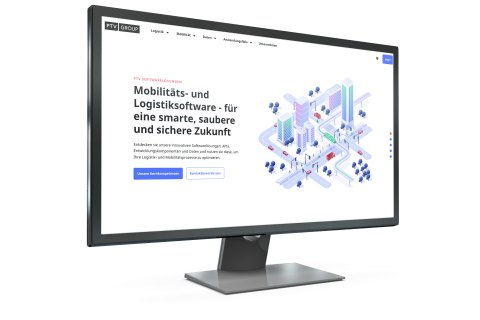 PTV
The Drupal multi-domain platform MyPTV, which recently won an award at the Splash Awards, is the global contact point for PTV Group products.
Commerz Real
The Drupal-based social intranet Com.In is Commerz Real's leading internal medium - and a key instrument for change communication.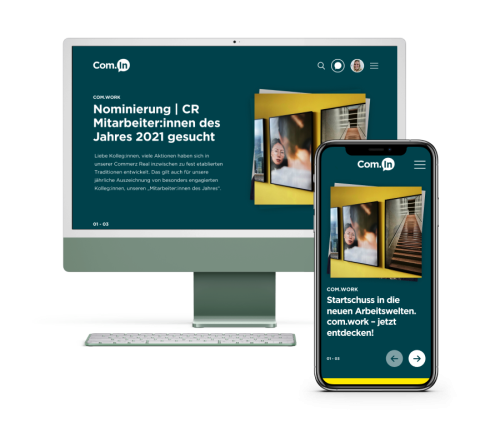 Recommendation for different use cases
TYPO3 or Drupal - which criteria are decisive? Both systems can be flexibly integrated into existing IT system landscapes and connected via interface, e.g. with CRM, ERP or SAP. As long as plug-ins and updates are kept in mind, both TYPO3 and Drupal are very powerful and secure and have a role and rights system that allows for flexible user rights.
TYPO3 and Drupal each come with their own themes, i.e. sets of graphic elements (templates) for the user interface. With both, however, it is advisable to develop an individual design or have one developed.
The choice between the two systems is not easy, especially in view of their wide range of functions. If you are looking for individual portal solutions with interactive features, Drupal might be the better option: community features are already included in the basic installation.
We advise to check basic factors first. Essentially, this involves
Goals that the application is pursuing within the framework of the digital strategy
Concrete requirements for the software solution
The existing IT infrastructure
Short- and medium-term available resources (personnel, budget, technology).
This inventory forms the basis for the system selection.
With more than 26 years of experience in the conception, implementation and further development of web-based applications, we are also happy to accompany you in your technological decision.