How we work
We design, plan and create TYPO3 applications for your e-business that are innovative both in technology and design. Depending on the target group and requirements, we offer you individual solutions for corporate websites, product introductions and brand presences, intranet platforms and online shops. Responsive design is standard for us and enables us to meet the needs associated with the rapidly increasing use of mobile end devices.
TYPO3 consultation and development
As your competent partner, we start advising you right from which strategic approach is right for you, to the most appropriate concepts and designs, and all the way up to the technical implementation of your individual TYPO3 solution. During our work we do not look at projects as closed systems, but rather as building blocks of hierarchal sequences and processes within the client's company.
Our TYPO3 team makes us one of the most effective TYPO3 agencies in Germany. We get the very best out of the TYPO3 system – for you. As an open-source framework, even just the standard release of TYPO3 offers a multitude of functions for a wide range of very different application areas. Additional functions are often made available in so-called extensions, which can either be of a free-of-charge or licensed variety. Depending on the requirements and framework conditions, UEBERBIT can also develop new extensions to meet the exact needs of our customers. Because only software that really fits can optimally support your business processes.
TYPO3 – the universal Content Management Framework (CMF)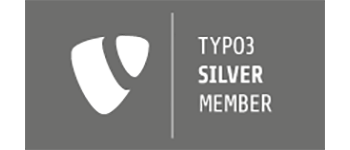 In the meantime, TYPO3 has become one of the most used content management systems worldwide. The freely available open-source solution is continuously being updated and expanded by a global developer community so that TYPO3 meets high security standards. We have successfully employed this framework system for more than 10 years.
Would you like to know more?
If you would like to learn more about the possibilities of TYPO3, then let's get together and talk. We will gladly show you all the things the system is capable of.
TYPO3-Jobs at UEBERBIT
You will find current job opportunities (in german language) under  https://www.ueberbit.de/jobs/.
Don't hestitate to send us your application in english language.