Website for an internationally-renowned university
The website of the University of Mannheim is a tool for brand maintenance and positioning in international competition.
The University of Mannheim is one of the best universities in Germany, is renowned for its research worldwide and is located on probably the most beautiful campus in the country. In order to convincingly present itself on the digital level as well, both nationally and internationally, the university undertook a fundamental relaunch of its heterogeneous website. In this regard, we handled the conception, design and technical implementation.
Uniform concept for the digital brand
The various websites of the six departments and divisions were supposed to be replaced by a uniform website in order to strengthen the university's brand which also included a corporate design process. In order to formulate the precise requirements for the platform, we conducted conception workshops in advance with our clients via interdisciplinary teams.
Optimal usability for users and editors
For optimal usage on mobile end devices, we implemented the website using responsive design techniques. As a technical basis, we implemented the TYPO3 content management system in the current Version 8. Before the launch, we prepared the editors during TYPO3 training on how to work with the new CMS.
Future-oriented platform
The university's website offers access to all departments and divisions, services and institutions under one domain. The uniform overall website supports these during the maintenance of its brand and image and enables modern communication with the target groups. The web pages are also state-of-the-art technically. The website is available in multiple languages. The translations can be directly updated via the TYPO3 back-end or imported via an extension (l10n Manager) and/or exported for translation.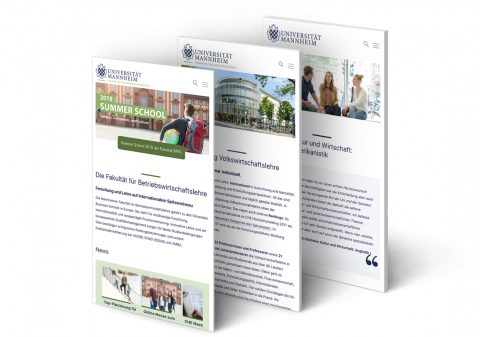 Solution
Website for all departments and divisions
Goals
Positioning and brand development in international competition
Technology
TYPO3 content management system, Version 8, responsive design