User-friendly portal for passengers
The corporate website of rnv is earmarked by its good user experience and modern technological basis.
Every workday, around half a million passengers are on the move using the transport network of the Rhein-Neckar-Verkehr GmbH (rnv). As part of its overarching brand strategy as the most important mobility service provider in the metropolitan region, rnv operates its website with an acute focus on functionality.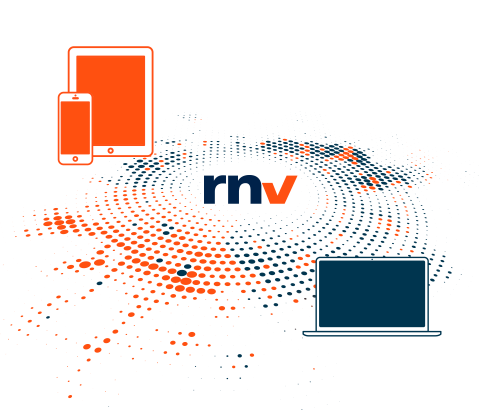 Focal point: User Experience
To realize its claim "Digital first", rnv offers passengers and applicants particularly easy access to relevant information on its website. Regardless of whether on the desktop, smartphone or tablet, a slim navigation system makes the essential information immediately accessible: If you would like to find out more about a particular bus or train connection, you can do so using a smart widget as well as the timetable and route maps on the start page. Current traffic messages are displayed here at a prominent place. The website also provides passengers with an overview of the numerous ways to buy tickets.
Job seekers can access the career area via the main menu where they can search for different categories in the job offers and then continue on to the online applicant portal of rnv.
A powerful search function ensures that website visitors can quickly find content even if such is not associated with the displayed menu items. The company provides its target groups with further information in its blog as well as via its Social Media Wall.
In order to propagate high-priority topics, such as long-term construction measures, in the most effectively communicative way, rnv uses specifically dedicated campaign pages in addition to the general corporate website. To facilitate this task, we developed an additional template that enables rapid changes to the design (e.g. colors, logos and fonts). 
Modern technology
As their digital agency, we support the Rhein-Neckar-Verkehr GmbH by constantly optimizing the scope of functionality as well as the system and security updates/upgrades in TYPO3. The current web presence is also characterized by its state-of-the-art technological foundation, e.g.: by making the system leap from TYPO3 version 6 to the current version, the passenger mobility company is now able to use a comfortable, future-proof content management system.
Application
Information platform with central transit timetable information
UX
User experience tailored for streamlined navigation and powerful search functionality
Mobile
Portal based on TYPO3 and optimized for data requests from mobile end devices