A smart PowerPoint alternative
A functional tool for convincing presentations in corporate design – that sums up the STYLEbook used by asset manager CommerzReal. In collaboration with UEBERBIT, the company developed this web app that frees up valuable time that employees can then use for productive work.
Five years ago, a study conducted by market research institute GfK identified Microsoft's PowerPoint as a real time-guzzler. According to the study, employees spend an hour a day with PowerPoint presentations, over 20 minutes of which are consumed just formatting, i.e. making them "prettier". Nevertheless (or perhaps precisely because of this?) 70 % of the presentations shown do not comply with valid corporate guidelines.
Presentations in teamwork
Presentations are an essential communication tool for our client Commerz Real, especially in sales. However, it is essential that important content is always presented in an up-to-date manner and in accordance with current corporate guidelines. PowerPoint does not offer any possibilities to ensure this for all presentations. Together with UEBERBIT, Commerz Real set out to find an alternative solution. The goal was to be able to provide the sales department with relevant key figures as a service for their own presentations and at the same time make the work of their colleagues much easier. The result was a web app – called STYLEbook - which replaces PowerPoint for a variety of presentations.
Custom Application instead of formating stress
With the STYLEbook, presentations can be created, shown online and offline, shared and forwarded quickly and easily. An editorial team ensures the quality of the content of important company data by developing corporate-compliant presentation modules, maintaining the image pool and offering sample slides which employees can overwrite to create their own presentations with just a few clicks.
Users at the focus of design and development
As in the joint Social Intranet project, the collaboration was based on the two guiding principles of user centered design and agility ("Scrum"). In the first step, the working methods and needs of the employees were analyzed, described as user stories and then transferred to software in development cycles. The customer was involved in each development step as a "Product Owner" and was thus able to actively influence the course and result.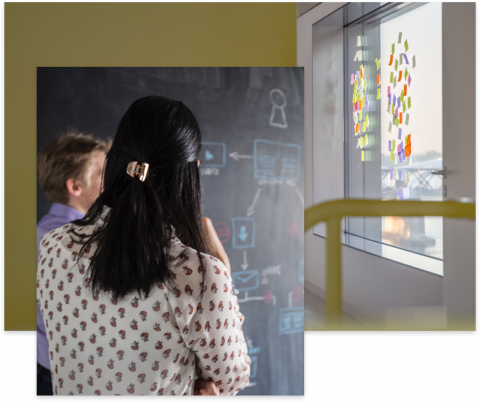 STYLEbook – a customized presentation solution
The result is a user-friendly, easy-to-use web application that enjoys a high level of acceptance. There is no need to install software on the user's computer – STYLEbook can be called up and operated directly from the social intranet in the browser. Presentations can thus be realized in much less time and in reliable quality – both in terms of content and design. 
The application is continuously being developed further – user feedback is the basis for planning the next development steps. The most recent extension was for a new corporate division that required its own layouts.
If someone had told me a year ago that we would be using company-wide presentations with a uniform look and which always incorporated up-to-date company information, I would probably have just smiled at that person. But that's exactly what we have achieved with the STYLEbook – fast, flexible, up-to-date, always in line with the CI and yet customizable. With the STYLEbook, UEBERBIT has shown what is possible when you know your target group and approach the implementation using agile project management. Simply great!

Christopher Egold
Digital Unit and Communication
Social Media Commerz Real AG
System
moderne Web-App-Architektur (Symfony, Angular, Reveal.js, PWA)
Top feature
Building blocks for corporate content in corporate design
Operation
Data storage on the web server