Communal citizens' portal of the City of Mannheim
The communal information and service portal of the City of Mannheim was custom tailored to the wishes and requirements of the target groups, both in terms of the content as well as its functions. Various navigation functions and a powerful search function ensure that content is found quickly. The portal is designed for usage with mobile end devices.
The city administrators of the City of Mannheim used their web presence both as a tool for image management as well as an opportunity to communicate with the city's citizens and visitors. After the initial launch of the website pages in the year 2010, they have now been completely reworked with a responsive design based on a future-capable technical foundation with optimized user experience in mind (open-source framework Drupal 8).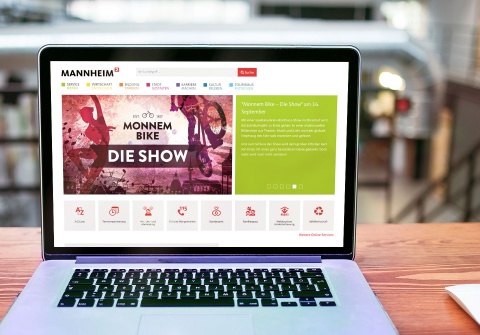 User-friendly platform
Via various areas of interest, the start page offers direct entry to the main menu as well as information about civic and municipal service offers and important topical subjects. Content elements, for instance, news & notifications and event information, are compactly displayed in a multiple-column layout.
Information and service on the web
As a central tool of the website, the search function enables efficient research in the contents – with the option of either search the entire website or limiting the search to categories, e.g. in the media library or in the message and events sections. The search is augmented with an A-Z search capability with the most frequently sought-after topics.
Integrated in the website are a large number of service functions and applications. An example of such is the support that the City of Mannheim gives to promote voluntary activity by its citizens in the social and cultural areas: Interested users can find a highly diversified range of offers in the Volunteer Exchange Forum.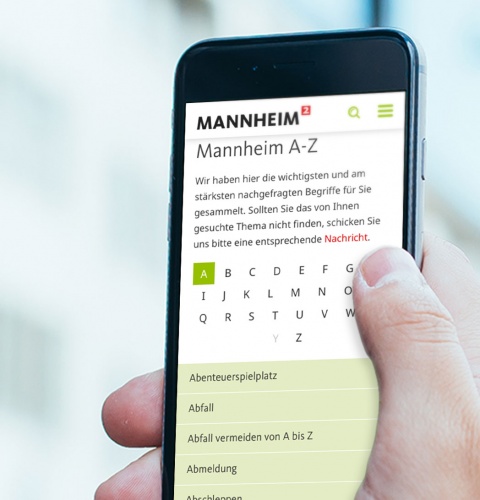 Solution
Communal citizens' portal
Technology
Content management framework Drupal 8
Search
Search function based on Apache Solr with various filter options (facets)