New platform for wine and tourism marketing of pfalz.de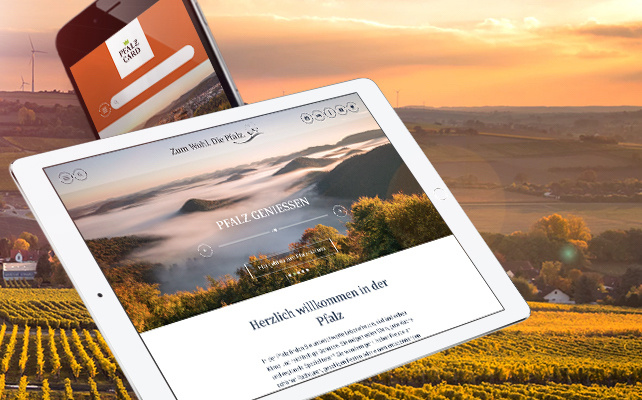 Presenting itself as the gateway to the Palatinate, the platform pfalz.de was conceived and implemented by UEBERBIT digital agency: The advertising organizations Pfalzwein e. V., Pfalz.Marketing e. V. and Pfalz.Touristik e. V. are jointly highlighting the advantages of the region with both a large overarching website and numerous satellite pages. These provide a plethora of various online contact points for friends of and visitors to the wine and holiday region. The technology enabling this is founded on a flexible, multi-domain concept based on the Drupal 8 content management system and framework.
As early as 1997, we accompanied the wine-tourism association then-called "Gebietsweinwerbung Pfalzwein e. V." with the launch of their first web presence, which we have since supported for approximately the subsequent 18 years as their digital agency and in concert with their Palatinate marketing and tourism partners. To enable the three organizations to use their common strategic orientation even more efficiently by synergistically bundling their messages and activities, we created an all-inclusive technical infrastructure umbrella as a central platform that can accommodate any number of individual appearances.
The new concept for the Pfalz brand reflects the interests of all interest groups from the B2B sector, the specialist professional audience and aficionados in addition to winegrowers and wine associations, restaurateurs and other companies as well as general-interest end customers, hikers and cultural travelers, etc. With the help of user "persona" profiles and user stories, our team developed the thematic and content structure of the platform. On the basis of simulated search engine queries, UEBERBIT designed target group-specific landing pages in addition to the topic pages that include supplementary subject suggestions for greater visibility, perception and findability on the web.
A smart image and navigation concept allows rapid access to the diverse contents of the website. This access takes place via current teasers, clickable theme screen areas and icons as well as a pictographic icon menu facilitating situation-related access. Page visitors who wish to search via the search function can do so using the powerful full text search and the thematic quick search at the top of the page.
When developing the Drupal 8 based multisite – which was also optimized for mobile devices – we made sure that all content and topics were easy to find. We integrated a wide range of contents from feratel's Deskline destination database, e.g. accommodation data, event dates, locations, attractions, etc., into the overall offer via an interface. Map and tour data are automatically obtained from Outdooractive. UEBERBIT also implemented the integrated, but independent, Pfalz-Shop on the basis of the open source software Shopware.