Central information and collaboration platform
With its deployment of its intranet, Schenker Deutschland AG puts into practice its mission statement of future-oriented, transparent and open communication in regards to its internal employee communication: It serves as a tool for interactive communication, promotes targeted knowledge and information exchange and thereby helps in the building of internal networks.
The intranet of Schenker Deutschland AG, a subsidiary of Deutsche Bahn AG, constitutes the central information and collaboration platform for the 15,000 employees distributed throughout Germany at more than 100 sites. The internal network of the logistics enterprise resulted from the merging and further development of an internal knowledge & idea platform and a classically structured intranet.
Networked collaboration
This communication instrument is earmarked by its extreme user-friendliness. In order to guarantee this when creating its structure and navigation, our project team employed modern user experience design-related methods. The key features were visualized and developed step-by-step using website wireframes.
As early as the application's start page, the user is guided by »mega layers« through the range of information offered. Recent articles appear in the news feed, whereas messages in the external social networks are displayed in the social media stream. Besides wikis, this intranet offers other principal functions for setting up virtual workgroups, such as a document library and a network with member directory and expert search. The employee magazine, which was previously printed, is now also integrated into the platform.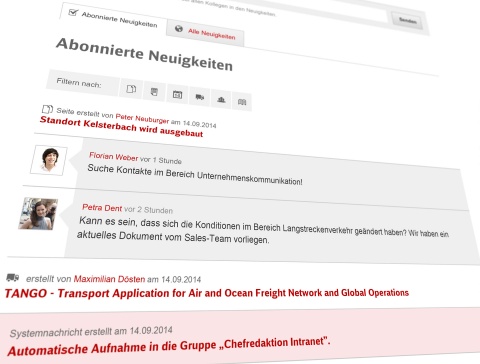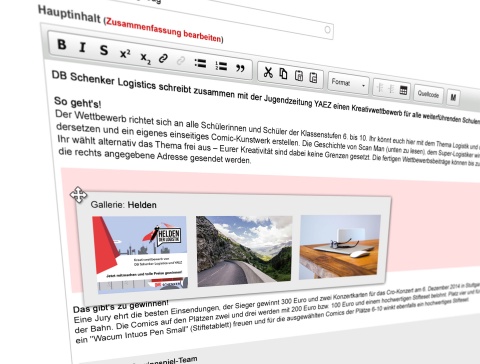 A future-capable content management system
Armed with Drupal 8, the company is availed of a content management system that can fully tackle any future challenges relating to the web application. Built on the basis of this most current Drupal version, we have implemented an innovative WYSIWYG editing configuration with which the Schenker editors can comfortably and flexibly create and format text, image and video content for articles.
Solution
A central collaboration and information platform for more than 15,000 employees at over 100 work sites
Technology
Drupal 8 as the Enterprise Content Management system with versatile interfaces to diverse third-party systems
Open
A future-proof solution thanks to its open architecture and modular structure, which enable a continuous enlargement of functionality