Social intranet of the Robert Bosch Foundation
This modern intranet permits employees to collaborate and generate ideas together regardless of their respective work sites. They are de facto: together in one location, always have access to the same information and always equipped with the most up-to-date documents.
The Robert Bosch Foundation is one of the largest company-affiliated foundations in Germany and active at both its headquarters in Stuttgart as well as in a representative office in Berlin. Each year, approximately 200 employees bring to completion some 800 non-profit in-house and external projects. They are supported in their work by an efficient communication and collaboration tool based on Drupal.
Future-capable communication instrument
Via Active Directory, employees are directly logged into the system so that each user profile automatically remains up-to-date. On the start page, they find recent messages, announcements and other relevant background information in an "activity stream" – social media and RSS news, among others. The clear structure and intuitive navigation structure and the powerful full-text search enable them to conveniently research within the quite extensive information bank of the Foundation.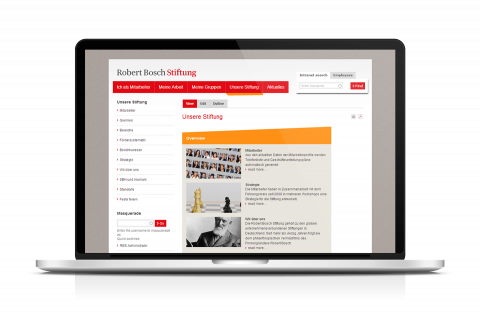 Platform for collaboration and coordination
Via use of social software elements, the internal network of the Robert Bosch Foundation encourages exchange between users in regards to their own contributions and commentaries. Independent of their physical workplace, the users can efficiently cooperate in virtual workgroups with other team members.
An important tool for the editorial planning is the »Theme timetable«. This tool makes it possible to coordinate communication measures for hundreds of projects. The individual areas of responsibility can then be viewed and assigned rapidly.
Solution
Social intranet with a focus on collaboration
Workflows
Control and management of communication processes
Technology
Content management system and framework by Drupal